Parent Surveys 2020 - 2021
October 2020 Parent Survey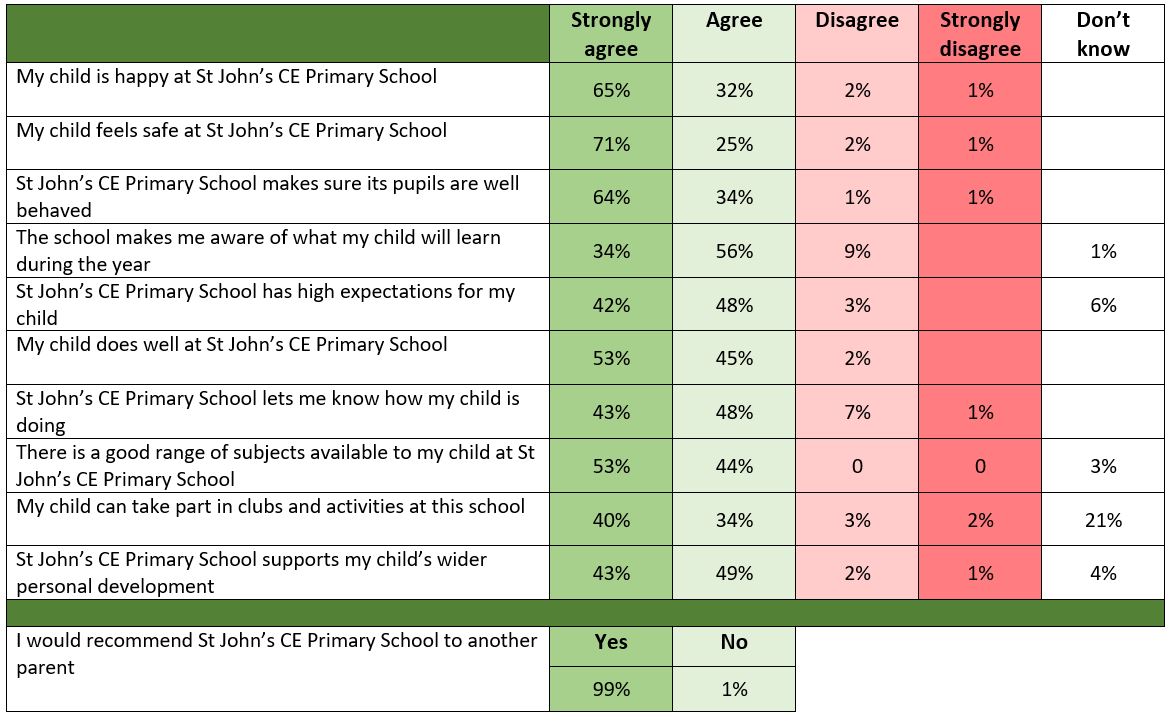 Further comments from parents were also made:
We are very happy with the care and quality of teaching provided at this school. Thank you for creating such a happy and safe environment
Thank you for the opportunities that *pupil has to stretch herself and thrive at school
A good school and wonderful team
*pupil has just joined St John's in September and she is very happy here and so I am with the school
May 2021 SIAMS Parent Survey (Statutory Inspection of Anglican and Methodist Schools)
Further comments were made in response to the following question: 'During the school day, we teach the children about our Core Christian Values of Compassion/Kindness, Courage/Endurance, Wisdom and Interior Posture. Please write below some examples of when your child has talked about these at home with you.'
Our School keeps them updated with all the necessary news from around the world & within our community. We as parents get to learn a lot from our children.
My child is very happy & blossoming within your school.
Fantastic school values & compassion & care shown towards children.
I love that you place importance on these values, it's helpful you do. On occasion we have been able to flip the question back to our son & ask if he thinks he is showing compassion in a situation. I am pleasantly surprised at how much other religion you do cover, I know from conversations with him over time he has learnt aspects of Hinduism, Judaism & Islam during his time with you.
I would like my child to develop a better understanding of other world religions to develop her overall knowledge & respect of other beliefs.