Parent Surveys 2019 - 2020
October 2019 Parent Survey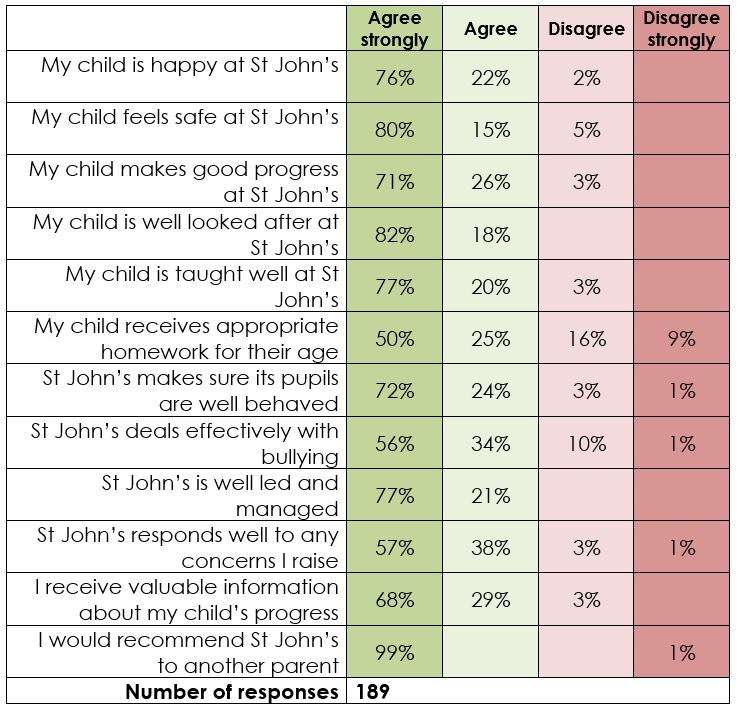 February 2020 SIAMS Parent Survey (Statutory Inspection of Anglican and Methodist Schools)
Further comments were made in response to the following question: 'During the school day, we teach the children about our Core Christian Values of Compassion/Kindness, Courage/Endurance, Wisdom and Interior Posture. Please write below some examples of when your child has talked about these at home with you.'
Our child talks about praying at school. She keeps singing Collective Worship songs at home too.
My son talks about how he is kind to his friends because he knows it is the right thing to do because other children give him leaves when he is kind.
He spoke about Terrance/Oldham College in December (old man at Christmas) and how it is important to be kind.
We love hearing the values being sung about in the school song. If I have been listening properly you have been covering compassion and kindness recently.
We were told about the Chinese New Year and Hinduism last week.
My daughter will often speak about kindness to friends. He also talks about phonics and yoga. She speaks about Chinese New Year too.
She said that she had courage on the residential when having to do rock climbing and the trapeze.
They don't talk about the values. They try to own them. Like my son saying to his younger brother, "You can do it. Keep going."